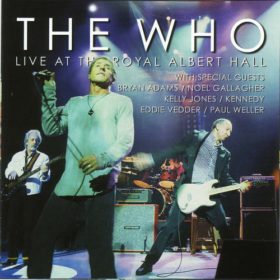 The Who – Live at the Royal Albert Hall (2003)
Tracks
Description
Artist
To listen to a song, click the "Play" button.
Can't Explain
Anyway, Anyhow, Anywhere
Pinball Wizard
Relay
My Wife
The Kids Are Alright
Mary Anne With The Shaky Hand
Bargain
Magic Bus
Who Are You
Baba O'Riley
Drowned
Heart To Hang Onto
So Sad About Us
I'm One
Getting In Tune
Behind Blue Eyes
You Better You Bet
The Real Me
5:15
Won't Get Fooled Again
Substitute
Let's See Action
My Generation
See Me, Feel Me/Listening To You
I'm Free
I Don't Even Know Myself
Summertime Blues
Young Man Blues
Live at the Royal Albert Hall is a three-CD live album set by The Who, released in 2003.
Discs one and two were recorded on 27 November 2000 and consist of John Entwistle, Roger Daltrey, Pete Townshend, Zak Starkey, and John "Rabbit"Bundrick performing a concert at the Royal Albert Hall for the Teenage Cancer Trust along with several guests. Disc three features four songs from The Who's last concert with John Entwistle, from 8 February 2002. Townshend dedicated "Heart to Hang Onto"to the late Ronnie Lane. The concert was also released on DVD as The Who & Special Guests: Live at the Royal Albert Hall.
The Who are an English rock band that formed in 1964. Their classic line-up consisted of lead singer Roger Daltrey, guitarist and singer Pete Townshend, bass guitarist John Entwistle, and drummer Keith Moon. They are considered one of the most more...
Genres: Hard Rock, International Rock
Also download other albums from The Who