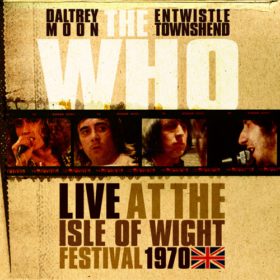 The Who – Live at the Isle of Wight Festival 1970 (1996)
Tracks
Description
Artist
To listen to a song, click the "Play" button.
Heaven And Hell
I Can't Explain
Young Man Blues
I Don't Even Know Myself
Water
Overture
It's A Boy
1921
Amazing Journey
Sparks
Eyesight To The Blind (The Hawker)
Christmas
The Acid Queen
Pinball Wizard
Do You Think It's Alright?
Fiddle About
Tommy Can You Hear Me?
There's A Doctor
Go To The Mirror!
Smash The Mirror
Miracle Cure
I'm Free
Tommy's Holiday Camp
We're Not Gonna Take It
Summertime Blues
Shakin' All Over / Spoonful / Twist And Shout
Substitute
My Generation
Naked Eye
Magic Bus
Live at the Isle of Wight Festival is a double live album by The Who, recorded at the Isle of Wight Festival on 29 August 1970, and released in 1996. A DVD of the concert was also released for the first time in 1996.
The Who were one year and three months into their Tommy tour when they played their second engagement at the Isle of Wight Festival. As in 1969, they played most of their famous rock opera, which by this time was quite familiar to the festival crowd. Huge spotlights bathed the audience of some 600,000 attendees, and as The Who's tour manager John Woolf recalls, attracted "every moth and flying nocturnal animal on the island". The Who started this famous concert at 2:00 A.M.
By August 1970, Pete Townshend was already introducing new songs to the setlist including "Water", "I Don't Even Know Myself"and "Naked Eye". These songs, which were being recorded at the time of the festival, were intended for an upcoming project known as Lifehouse. Although Lifehouse was eventually abandoned, the sessions paved the way to the Who's classic album Who's Next.
The Who also performed some live staples such as "Substitute", "My Generation", "Magic Bus", "I Can't Explain", and the perennial covers of "Shakin' All Over"and "Summertime Blues".
The Who are an English rock band that formed in 1964. Their classic line-up consisted of lead singer Roger Daltrey, guitarist and singer Pete Townshend, bass guitarist John Entwistle, and drummer Keith Moon. They are considered one of the most more...
Genres: Hard Rock, International Rock
Also download other albums from The Who