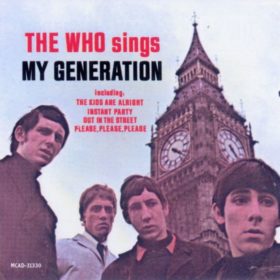 The Who – Sings My Generation (1965)
Tracks
Description
Artist
To listen to a song, click the "Play" button.
Out in the Street
I Don't Mind
The Good's Gone
La La La Lies
Much Too Much
My Generation
The Kids Are Alright
Please, Please, Please
It's Not True
The Ox
A Legal Matter
Instant Party
My Generation is the debut studio album by the English rock band The Who, released on 3 December 1965 by Brunswick Records in the United Kingdom. In the United States, it was released on 25 April 1966 by Decca Records as The Who Sings My Generation, with a different cover and a slightly altered track listing.
The album was made immediately after The Who got their first singles on the charts and according to the booklet in the Deluxe Edition, it was later dismissed by the band as something of a rush job that did not accurately represent their stage performance of the time. However, critics often rate it as one of the best rock albums of all time.
The Who are an English rock band that formed in 1964. Their classic line-up consisted of lead singer Roger Daltrey, guitarist and singer Pete Townshend, bass guitarist John Entwistle, and drummer Keith Moon. They are considered one of the most more...
Genres: International Rock, Psychedelic Rock
Also download other albums from The Who