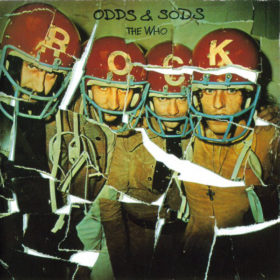 The Who – Odds & Sods (1974)
Tracks
Other videos of this song:

Postcard

The Who - Postcard

Mix - The Who - Postcard

Postcard

The Who - Postcard
8
Faith In Something Bigger
About the Album
Odds & Sods is an album that consists of studio outtakes and rarities by British rock band The Who released by Track Records in the UK and Track/MCA in the US in 1974.
In the autumn of 1973, while Roger Daltrey, Pete Townshend and Keith Moon were preparing for the Tommy film, John Entwistle was put in charge of compiling an album to counter the rampant bootlegging that arose from The Who's concerts. "If John Entwistle had never seen Who's Zoo,"observed that bootleg's cover artist William Stout, "we might not have had the legitimate Who release of Odds & Sods."
"I tried to arrange it like a parallel sort of Who career – what singles we might have released and what album tracks we might have released,"Entwistle explained. He and the producer of his solo albums, John Alcock, compiled Odds & Sods from various tapes. Two LPs of material were collected, but only one was released. "It could have been a double album, there was that much material,"Entwistle said at the time of the album's release.
The album reached No. 10 on the UK charts and No. 8 in the US. Townshend wrote liner notes that included frank opinions of the quality of the songs. The notes were omitted from some copies of the original LP but included on the 1998 remastered CD. The latter featured material from the unreleased second LP.
Genres: Hard Rock, International Rock
Other The Who discography albums for download