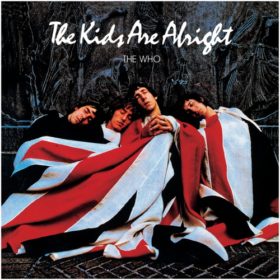 The Who – The Kids Are Alright (1979)
Tracks
Description
Artist
To listen to a song, click the "Play" button.
My Generation
I Can't Explain
Happy Jack
I Can See For Miles
Magic Bus
Long Live Rock
Anyway, Anyhow, Anywhere
Young Man (Blues)
My Wife
Baba O'Reilly
A Quick One
Tommy, Can You Hear Me?
Sparks
Pinball Wizard
See Me, Feel Me
Medley
Won't Get Fooled Again
The Kids Are Alright is a soundtrack album by the British rock band The Who, as a companion to the band's documentary film of the same name.
It was originally released as a double album in June 1979 on Polydor Records in the UK and MCA Records in the US. The performance of "My Wife"was from a concert The Who filmed for The Kids Are Alright at the Gaumont State Cinema in Kilburn; however the footage was not used in the film. That show was later restored for DVD and released as The Who at Kilburn: 1977 in 2008. "Tommy Can You Hear Me"had a longer outro with Roger Daltrey repeating the word "Tommy"before Keith Moon screams "'Ello!"to end the song. The soundtrack album did well in the US and peaked at #8 on the Billboard album chart and went platinum, while it peaked at a disappointing #26 on the UK charts.
The Who are an English rock band that formed in 1964. Their classic line-up consisted of lead singer Roger Daltrey, guitarist and singer Pete Townshend, bass guitarist John Entwistle, and drummer Keith Moon. They are considered one of the most more...
Genres: Hard Rock, International Rock
Also download other albums from The Who