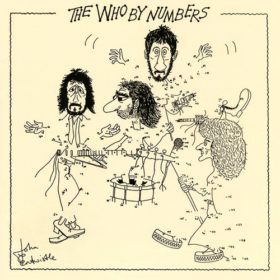 The Who – The Who by Numbers (1975)
Tracks
Description
Artist
To listen to a song, click the "Play" button.
Slip Kid
However Much I Booze
Squeeze Box
Dreaming From The Waist
Imagine A Man
Success Story
They Are All In Love
Blue Red And Grey
How Many Friends
In A Hand Or A Face
The Who by Numbers is the seventh studio album by English rock band The Who, released on 3 October 1975 in the United Kingdom through Polydor Records, and on 25 October 1975 in the United States by MCA Records. It was named the tenth-best album of the year in The Village Voice Pazz & Jop critics poll.
The album cover was drawn by John Entwistle. In 1996, when asked about the cover, he replied: "The first [piece of artwork] release[d] is The Who by Numbers cover, which I never got paid for, so now I'm going to get paid. (laughs) We were taking it in turns to do the covers. It was Pete's turn before me and we did the Quadrophenia cover, which cost about the same as a small house back then, about £16,000. My cover cost £32."
The Who are an English rock band that formed in 1964. Their classic line-up consisted of lead singer Roger Daltrey, guitarist and singer Pete Townshend, bass guitarist John Entwistle, and drummer Keith Moon. They are considered one of the most more...
Genres: Hard Rock, International Rock
Also download other albums from The Who