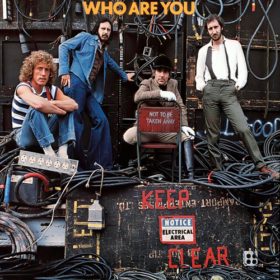 The Who – Who Are You (1978)
Tracks
Description
Artist
To listen to a song, click the "Play" button.
New Song
Had Enough
905
Sister Disco
Music Must Change
Trick Of The Light
Guitar And Pen
Love Is Coming Down
Who Are You
Who Are You is the eighth studio album by English rock band The Who, released on 18 August 1978 by Polydor Records in the United Kingdom and MCA Records in the United States. The album received mixed reviews from critics, though it was a commercial success, peaking at number 2 on the US charts and number 6 on the UK charts.
Who Are You was The Who's last album to feature Keith Moon as their drummer; Moon died three weeks after the album's release. The paradoxical nature of the text "Not To Be Taken Away"that was stenciled on Moon's chair on the album cover was noted by some critics. Moon's death brought concerns that the band would have to fold. He was ultimately replaced by Kenney Jones.
The Who are an English rock band that formed in 1964. Their classic line-up consisted of lead singer Roger Daltrey, guitarist and singer Pete Townshend, bass guitarist John Entwistle, and drummer Keith Moon. They are considered one of the most more...
Genres: Hard Rock, International Rock
Also download other albums from The Who