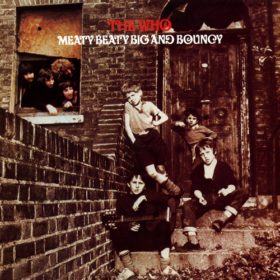 The Who – Meaty Beaty Big and Bouncy (1971)
Tracks
Description
Artist
To listen to a song, click the "Play" button.
I Can't Explain
The Kids Are Alright
Happy Jack
I Can See For Miles
Pictures Of Lily
My Generation
The Seeker
Anyway, Anyhow, Anywhere
Pinball Wizard
A Legal Matter
Boris The Spider
Magic Bus
Substitute
I'm A Boy
Meaty Beaty Big and Bouncy is a compilation album of singles by British rock band The Who, released in 1971 as Track 2406 006 in the UK and as Decca DL 79184 in the US. It entered the US Billboard 200 chart on 20 November 1971, peaking at number 11, and the UK chart on 3 December 1971, peaking at number 9. In 1987, Rolling Stone ranked it number 99 on their list of the 100 best albums of the period 1967–1987.
The Who are an English rock band that formed in 1964. Their classic line-up consisted of lead singer Roger Daltrey, guitarist and singer Pete Townshend, bass guitarist John Entwistle, and drummer Keith Moon. They are considered one of the most more...
Genres: Hard Rock, International Rock
Also download other albums from The Who