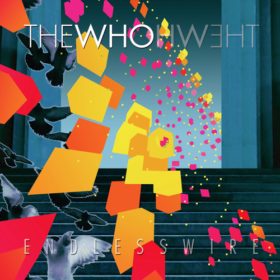 The Who – Endless Wire (2006)
Tracks
Other videos of this song:

Mix - Fragments

Fragments

Fragments Of Fragments

Fragments Of Fragments

The Who - Won't Get Fooled Again (Shepperton Studios / 1978)
2
A Man In A Purple Dress
7
God Speaks Of Marty Robbins
15
Fragments Of Fragments
17
They Made My Dream Come True
20
We Got A Hit (Extended Version)
21
Endless Wire (Extended Version)
About the Album
Endless Wire is the eleventh and most recent studio album by the English rock band the Who; it was released on 30 October 2006 in the UK through Polydor Records and the following day in the US by Universal Republic. It was their first new album of original material in 24 years following the release of It's Hard in 1982. The album was originally to be released in early 2005 under the working title WHO2.
Endless Wire received generally positive reviews from music critics. It debuted at #7 on the Billboard album chart and #9 in the UK. Portions of it were featured on The Who Tour 2006-2007. Most of the songs from this album were used in the rock musical adaptation of The Boy Who Heard Music which debuted in July 2007 as part of Vassar College's Powerhouse Summer Theater workshop series.
Genres: Hard Rock, International Rock
Other The Who discography albums for download