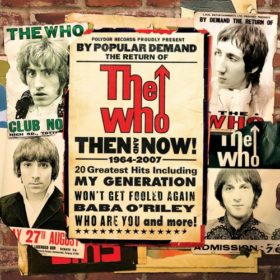 The Who – Then and Now (2004)
Tracks
Description
Artist
To listen to a song, click the "Play" button.
I Can't Explain
My Generation
The Kids Are Alright
Substitute
I'm A Boy
Happy Jack
I Can See For Miles
Magic Bus
Pinball Wizard
See Me, Feel Me
Summertime Blues (Live)
Behind Blue Eyes
Won't Get Fooled Again
5:15
Love, Reign O'er Me
Squeeze Box
Who Are You
You Better You Bet
Real Good Looking Boy
Old Red Wine
Then and Now is a 2004 greatest hits compilation album by The Who released internationally by Polydor Records and by Geffen Records in the United States. It features 18 Who classics and two new tracks—"Real Good Looking Boy"and "Old Red Wine"—which were the first Who originals since "Dig"from Pete Townshend's 1989 album The Iron Man. "Real Good Looking Boy"is a tribute to Elvis Presley, and "Old Red Wine"is a tribute to former band member John Entwistle, who died in 2002. The album was re-released in 2007 and replaced "Old Red Wine"with "It's Not Enough"from the 2006 album Endless Wire and "Summertime Blues"was replaced by "Baba O'Riley".
The Who are an English rock band that formed in 1964. Their classic line-up consisted of lead singer Roger Daltrey, guitarist and singer Pete Townshend, bass guitarist John Entwistle, and drummer Keith Moon. They are considered one of the most more...
Genres: Hard Rock, International Rock
Also download other albums from The Who