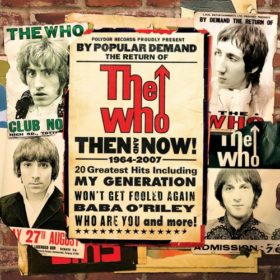 The Who – Then and Now (2004)
Tracks
The Who - I Can't Explain
Other videos of this song:

I Can't Explain-The Who (with lyrics)

"I Can't Explain" - Live at the Royal Albert Hall

THE WHO,CAN'T EXPLAIN,ANYWAY,ANYHOW,ANYWHERE 1965: TONYS 60S MOD

The Who (1) I Can't Explain (Live at Kilburn 1977)

The Who - I Can't Explain - 7/7/1970 - Tanglewood (Official)
11
Summertime Blues (Live)
13
Won't Get Fooled Again
About the Album
Then and Now is a 2004 greatest hits compilation album by The Who released internationally by Polydor Records and by Geffen Records in the United States. It features 18 Who classics and two new tracks—"Real Good Looking Boy"and "Old Red Wine"—which were the first Who originals since "Dig"from Pete Townshend's 1989 album The Iron Man. "Real Good Looking Boy"is a tribute to Elvis Presley, and "Old Red Wine"is a tribute to former band member John Entwistle, who died in 2002. The album was re-released in 2007 and replaced "Old Red Wine"with "It's Not Enough"from the 2006 album Endless Wire and "Summertime Blues"was replaced by "Baba O'Riley".
Genres: Hard Rock, International Rock
Other The Who discography albums for download