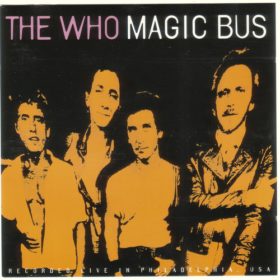 The Who – Magic Bus (Live in Philadelphia) (1993)
Tracks
Description
Artist
To listen to a song, click the "Play" button.
I Am The Sea - The Real Me
I'm One
Sea And Sand
Drowned
Bell Boy
Dr. Jimmy
Won't Get Fooled Again
Pinball Wizard
See Me, Feel Me
Can't Explain
Summertime Blues
My Generation
Magic Bus
Baby Don't You Do It
Baba O'Riley
Behind Blue Eyes
Bargain
No description has been added yet...
The Who are an English rock band that formed in 1964. Their classic line-up consisted of lead singer Roger Daltrey, guitarist and singer Pete Townshend, bass guitarist John Entwistle, and drummer Keith Moon. They are considered one of the most more...
Genres: Hard Rock, International Rock
Also download other albums from The Who