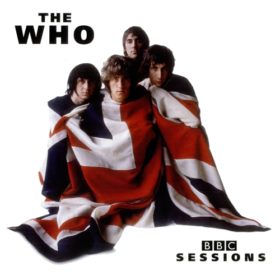 The Who – BBC Sessions (2000)
Tracks
Description
Artist
To listen to a song, click the "Play" button.
My Generation (Radio 1 Jingle)
Anyway, Anyhow, Anywhere
Good Lovin'
Just You And Me, Darling
Leaving Here
My Generation
The Good's Gone
La La La Lies
Substitute
Man With the Money
Dancing in the Street
Disguises
I'm a Boy
Run Run Run
Boris the Spider
Happy Jack
See My Way
Pictures of Lily
A Quick One, While He's Away
Substitute (2)
The Seeker
I'm Free
Shakin' All Over/Spoonful (Medley)
Relay
Long Live Rock
Boris The Spider (Radio 1 Jingle)
BBC Sessions by The Who was released 15 February 2000 on Polydor Records internationally and MCA Records in the U.S. It contains 24 songs and two jingles recorded live at the BBC studios in London.
With the exception of the jingles being used to bookend the album, and the third track being misplaced, The Who's recordings are presented in chronological order.
The Who are an English rock band that formed in 1964. Their classic line-up consisted of lead singer Roger Daltrey, guitarist and singer Pete Townshend, bass guitarist John Entwistle, and drummer Keith Moon. They are considered one of the most more...
Genres: Hard Rock, International Rock
Also download other albums from The Who