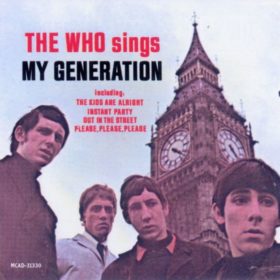 The Who – Sings My Generation (1965)
Músicas
The Who-Out in the Street
Outros vídeos dessa música:

Out In The Street (Stereo Version)

The Who - Out In The Street (A Whole Scene Going 1-5-66)

Mix - The Who-Out in the Street

Bruce Springsteen & The E Street Band - Out In the Street (Live in New York City)

Bruce Springsteen - Out In The Street
Sobre o Álbum
My Generation é o álbum de estreia do The Who. Foi lançado nos EUA sob o título The Who Sings My Generation, com uma capa alternativa e algumas canções diferentes.
O álbum foi gravado assim que o Who conseguiu emplacar seus compactos nas paradas de sucesso, sendo posteriormente rejeitado pelo grupo como uma espécie de trabalho corrido que não representa a banda como ela era na época. Por outro lado, a crítica especializada frequentemente liste este como um dos melhores álbuns de rock dos anos 60. A faixa título entrou para o Hall da Fama do Grammy Award em 1999.
O álbum foi feito durante o perído "Maximum R&B" do Who, e apresenta várias versões de sucessos do rhythm and blues, além de algumas faixas compostas pelo guitarrista Pete Townshend.
Gêneros: Rock Internacional, Rock Psicodélico
Outros álbuns da discografia de The Who para download