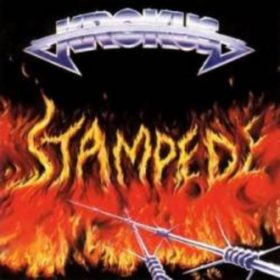 Krokus – Stampede (1990)
Tracks
Description
Artist
To listen to a song, click the "Play" button.
Stampede
Electric Man
Rock 'N Roll Gypsy
Shotgun Boogie
Nova-Zano
Street Love
Good Times
She Drives Me Crazy
In the Heat of the Night
Rhythm of Love
Wasteland
Stampede is the eleventh studio album by Swiss hard rock band Krokus. It features an almost completely different line-up to that of their last album (with the exception of Fernando von Arb), and was recorded near the band's home town of Solothurn by Jürg Naegeli, a former member of the band. It was also the first Krokus album not to feature Marc Storace on vocals since he joined the band. His replacement, Peter Tanner, had previously been a member of Swiss bands Witchcraft, Bloody Six and Headhunter. The album reached No. 18 in the Swiss album chart.
Krokus are a hard rock and heavy metal band from Switzerland. They enjoyed great success in North America during the 1980s.Krokus were founded in Solothurn in 1975 by bassist/keyboardist/percussionist (and original drummer, and then lead more...
Genres: Hard Rock, Heavy Metal, International Rock
Also download other albums from Krokus