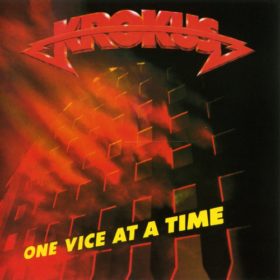 Krokus – One Vice at a Time (1982)
Tracks
Description
Artist
To listen to a song, click the "Play" button.
Long Stick Goes Boom
Bad Boys Rag Dolls
Playin' The Outlaw
Save Me
Down The Drain
American Woman
I'm On The Run
To The Top
Rock 'N' Roll
One Vice at a Time is the sixth studio album by the Swiss hard rock band Krokus, released in 1982 on Arista Records. It is notable for the strong influence of Australian hard rock band AC/DC on the songs and production, and was the first album to feature Mark Kohler on rhythm guitar. It includes a cover of the Guess Who's song "American Woman". The song "Long Stick Goes Boom"is used in the video game Grand Theft Auto: Vice City Stories.
Bruce Dickinson, who at the time had just been hired as Iron Maiden's new lead vocalist, provides backing vocals on the track "I'm on the Run". Producer Tony Platt was best known for his prior work as engineer with AC/DC.
UK-based company Rock Candy Records reissued the album on CD in 2014.
The band's live album Long Stick Goes Boom: Live From Da House of Rust took its title from the lead-off song on this release.
Krokus are a hard rock and heavy metal band from Switzerland. They enjoyed great success in North America during the 1980s.Krokus were founded in Solothurn in 1975 by bassist/keyboardist/percussionist (and original drummer, and then lead more...
Genres: Hard Rock, International Rock, Progressive Rock
Also download other albums from Krokus