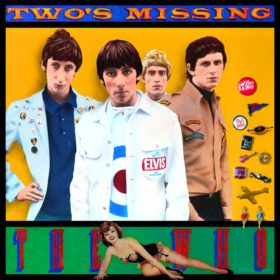 The Who – Two's Missing (1987)
Tracks
The Who-Bald Headed Woman
Other videos of this song:

Bald Headed Woman (Stereo Version)

The Who Bald Headed Woman Swedish TV 1966

Jay-Jays Bald Headed Woman no sugar in my coffee

Mix - The Who-Bald Headed Woman

I Don't Want No Bald Headed Woman Telling Me What To Do
7
Circles (Revised Version)
11
Heat Wave (Original Version)
About the Album
Two's Missing is a compilation album by English rock band The Who. Released in 1987 on vinyl, cassette and CD, Two's Missing gathered singles and EP tracks that hadn't appeared on album or CD. The album cover design is by Richard Evans.
The album was reissued on CD in Japan as a limited edition release on 24 December 2011 with 4 additional tracks carried over from the Japan-only bonus CD of Then and Now, as a two-CD set together with Who's Missing. Two's Missing was remastered by Jon Astley.
Genres: Blues Rock, Hard Rock, International Rock
Other The Who discography albums for download