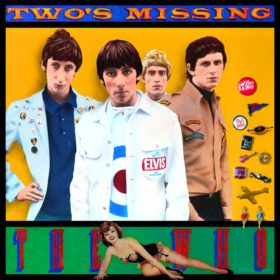 The Who – Two's Missing (1987)
Tracks
Description
Artist
To listen to a song, click the "Play" button.
Bald Headed Woman
Under My Thumb
My Wife (Live)
I'm A Man
Dogs
Dogs, Part Two
Circles (Revised Version)
The Last Time
Water
Daddy Rolling Stone
Heat Wave (Original Version)
Goin' Down (Live)
Motoring
Wasp Man
Two's Missing is a compilation album by English rock band The Who. Released in 1987 on vinyl, cassette and CD, Two's Missing gathered singles and EP tracks that hadn't appeared on album or CD. The album cover design is by Richard Evans.
The album was reissued on CD in Japan as a limited edition release on 24 December 2011 with 4 additional tracks carried over from the Japan-only bonus CD of Then and Now, as a two-CD set together with Who's Missing. Two's Missing was remastered by Jon Astley.
The Who are an English rock band that formed in 1964. Their classic line-up consisted of lead singer Roger Daltrey, guitarist and singer Pete Townshend, bass guitarist John Entwistle, and drummer Keith Moon. They are considered one of the most more...
Genres: Blues Rock, Hard Rock, International Rock
Also download other albums from The Who