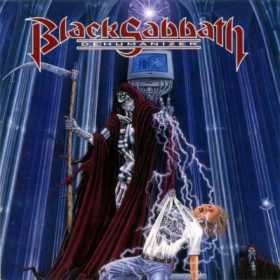 Black Sabbath – Dehumanizer (1992)
Tracks
Description
Artist
To listen to a song, click the "Play" button.
Computer God
After All (The Dead)
TV Crimes
Letters From Earth
Master Of Insanity
Time Machine
Sins Of The Father
Too Late
I
Buried Alive
Time Machine
Dehumanizer is the sixteenth studio album by English rock band Black Sabbath, released in June 1992.
It was Sabbath's first studio album in over a decade to feature vocalist Ronnie James Dio and drummer Vinny Appice, and their first in nine years to feature original bassist Geezer Butler. Initial writing and demo sessions at Rich Bitch Studios in Birmingham featured drummer Cozy Powell; bootlegs of these sessions exist.
The album's lineup – Dio, Appice, Butler and guitarist Tony Iommi – reunited in 2006 for a greatest hits set, Black Sabbath: The Dio Years, and a new studio album in 2009, The Devil You Know (billed as Heaven & Hell).
The album was rereleased, with bonus content, on 7 February 2011.
Black Sabbath were an English rock band, formed in Birmingham in 1968, by guitarist and main songwriter Tony Iommi, bassist and main lyricist Geezer Butler, singer Ozzy Osbourne, and drummer Bill Ward. Black Sabbath are often cited as more...
Genres: Heavy Metal, International Rock
Also download other albums from Black Sabbath