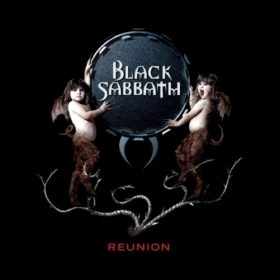 Black Sabbath – Reunion (1998)
Tracks
Description
Artist
To listen to a song, click the "Play" button.
War Pigs (Live)
Behind the Wall of Sleep
N.I.B. - Live
Fairies Wear Boots - Video for EVS 41588/Live
Electric Funeral
Sweet Leaf - Live
Spiral Architect
Into The Void - Live
Snowblind - Live
Sabbath Bloody Sabbath
Orchid/Lord of This World - Live
Dirty Women - Live
Black Sabbath - Live
Iron Man - Live
Children of the Grave
Paranoid
Psycho Man
Selling My Soul
Reunion is a live album by heavy metal band Black Sabbath. It features the original line-up of Ozzy Osbourne, Tony Iommi, Geezer Butler and Bill Ward: the four musicians' first recording together since the firing of Osbourne in 1979.
Osbourne, Iommi, Butler and Ward reunited for Live Aid in 1985 and for the climax of Ozzy's No More Tours Tour in 1992, but neither had resulted in an album or tour. An attempt at a Reunion in 1993 proved abortive – and, when Osbourne, Iommi and Butler reunited as Sabbath for the 1997 Ozzfest, Ward was replaced by Faith No More's Mike Bordin.
Concern about Ward's health meant former Sabbath drummer Vinny Appice was on standby for two homecoming shows at the Birmingham NEC on December 4 and 5, 1997. "We hadn't done a show with Bill for 18 years,"remarked Iommi. In fact, Ward made it through both shows – albeit not without incident. "Bill hit a gong and it fell on him,"Iommi reported. "I creased up. His arm was black and blue in the morning, because those things weigh a ton. When it hit him and fell onto the kit, it sounded like someone was throwing pots and pans around. We were waiting for something like that to happen."
Along with live versions of classics such as "Paranoid", "N.I.B.", "Black Sabbath"and "Iron Man", the double album features two new studio tracks: "Selling My Soul"and "Psycho Man". The two new tracks on Reunion were also released on a single CD in the USA.
Sabbath received their first Grammy Award for Best Metal Performance, for the live recording of "Iron Man"from this album in 2000. They won the same award 14 years later, for "God Is Dead?".
Black Sabbath were an English rock band, formed in Birmingham in 1968, by guitarist and main songwriter Tony Iommi, bassist and main lyricist Geezer Butler, singer Ozzy Osbourne, and drummer Bill Ward. Black Sabbath are often cited as more...
Genres: Heavy Metal, International Rock
Also download other albums from Black Sabbath