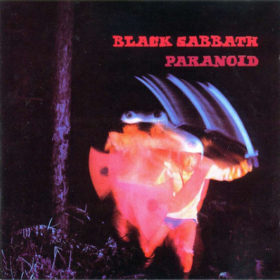 Black Sabbath – Paranoid (1970)
Tracks
Description
Artist
To listen to a song, click the "Play" button.
War Pigs/Luke's Wall
Paranoid
Planet Caravan
Iron Man
Electric Funeral
Hand of Doom
Rat Salad
Jack The Stripper/Fairies Wear Boots
Paranoid is the second studio album by the English rock band Black Sabbath. Released in September 1970, it was the band's only LP to top the UK Albums Chart until the release of 13 in 2013. Paranoid contains several of the band's signature songs, including "Iron Man", "War Pigs"and the title track, which was the band's only Top 20 hit, reaching number 4 in the UK charts. It is often cited as an influential album in the development of heavy metal music.
Black Sabbath were an English rock band, formed in Birmingham in 1968, by guitarist and main songwriter Tony Iommi, bassist and main lyricist Geezer Butler, singer Ozzy Osbourne, and drummer Bill Ward. Black Sabbath are often cited as more...
Genres: Heavy Metal, International Rock
Also download other albums from Black Sabbath