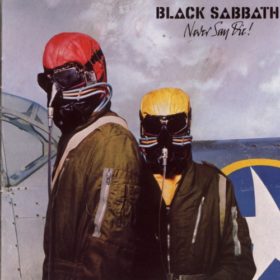 Black Sabbath – Never Say Die! (1978)
Tracks
Description
Artist
To listen to a song, click the "Play" button.
Never Say Die
Johnny Blade
Junior's Eyes
A Hard Road
Shock Wave
Air Dance
Over to You
Breakout
Swinging the Chain
Never Say Die! is the eighth studio album by English rock band Black Sabbath, released in September 1978. It was the last studio album with the band's original lineup and also the last studio album to feature original vocalist Ozzy Osbourne until his return to the band in 2012. It was certified Gold in the U.S on 7 November 1997 and as of November 2011 sold 133,000 copies in the United States since the SoundScan era. Critics called it unbalanced, scattering its energy in too many directions.
Black Sabbath were an English rock band, formed in Birmingham in 1968, by guitarist and main songwriter Tony Iommi, bassist and main lyricist Geezer Butler, singer Ozzy Osbourne, and drummer Bill Ward. Black Sabbath are often cited as more...
Genres: Heavy Metal, International Rock
Also download other albums from Black Sabbath