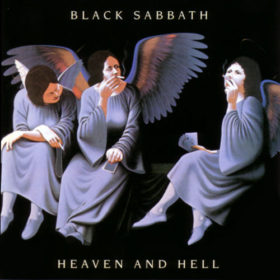 Black Sabbath – Heaven And Hell (1980)
Tracks
Description
Artist
To listen to a song, click the "Play" button.
Neon Knights
Children of the Sea
Lady Evil
Heaven and Hell
Wishing Well
Die Young
Walk Away
Lonely Is the Word
Heaven and Hell is the ninth studio album by English rock band Black Sabbath, released on 25 April 1980. It is the first Black Sabbath album to feature vocalist Ronnie James Dio, who replaced original vocalist Ozzy Osbourne in 1979.
Produced by Martin Birch, the album was a commercial success, particularly in the United States, where it reached number 28 on the Billboard 200 chart, and was certified platinum for 1 million sales in the United States alone. In the band's native country, it sold well enough to be certified silver by the British Phonographic Industry in April 1982.
Black Sabbath were an English rock band, formed in Birmingham in 1968, by guitarist and main songwriter Tony Iommi, bassist and main lyricist Geezer Butler, singer Ozzy Osbourne, and drummer Bill Ward. Black Sabbath are often cited as more...
Genres: Heavy Metal, International Rock
Also download other albums from Black Sabbath