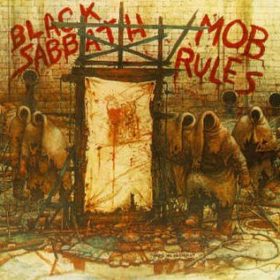 Black Sabbath – Mob Rules (1981)
Tracks
Description
Artist
To listen to a song, click the "Play" button.
Turn Up the Night
Voodoo
The Sign of the Southern Cross
E 5150
The Mob Rules
Country Girl
Slipping Away
Falling Off the Edge of the World
Over and Over
Mob Rules is the 10th studio album by English heavy metal band Black Sabbath, released in November 1981. It followed 1980's Heaven and Hell, and it was the second and last Black Sabbath studio album to feature lead vocalist Ronnie James Dio prior to the 1992 album Dehumanizer. Produced and engineered by Martin Birch, the album received an expanded edition release in 2010.
The cover art is a modified version of artist Greg Hildebrandt's piece entitled Dream 1: Crucifiers from 1971, with Black Sabbath licensing its use for the cover of Mob Rules. Some fans claim the name 'Ozzy' was spelled out on the album cover, something Iommi dismisses as "rubbish" in his autobiography: "There was a little controversy about some stains on the floor in the picture. According to some people it spelled out 'Ozzy'. Somebody mentioned it to us and we went: 'What?'…I never noticed anything and I still wouldn't know where to find it."
Black Sabbath were an English rock band, formed in Birmingham in 1968, by guitarist and main songwriter Tony Iommi, bassist and main lyricist Geezer Butler, singer Ozzy Osbourne, and drummer Bill Ward. Black Sabbath are often cited as more...
Genres: Heavy Metal, International Rock
Also download other albums from Black Sabbath