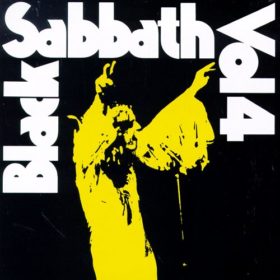 Black Sabbath – Black Sabbath Vol. 4 (1972)
Tracks
Description
Artist
To listen to a song, click the "Play" button.
Wheels of Confusion/The Straightener
Tomorrow's Dream
Changes
FX
Supernaut
Snowblind
Cornucopia
Laguna Sunrise
St. Vitus Dance
Under the Sun/Every Day Comes and Goes
Vol. 4 is the fourth studio album by English rock band Black Sabbath, released in September 1972. It was the first album by Black Sabbath not produced by Rodger Bain; guitarist Tony Iommi assumed production duties. Patrick Meehan, the band's then-manager, was listed as co-producer, though his actual involvement in the album's production was minimal.
Black Sabbath were an English rock band, formed in Birmingham in 1968, by guitarist and main songwriter Tony Iommi, bassist and main lyricist Geezer Butler, singer Ozzy Osbourne, and drummer Bill Ward. Black Sabbath are often cited as more...
Genres: Heavy Metal, International Rock
Also download other albums from Black Sabbath