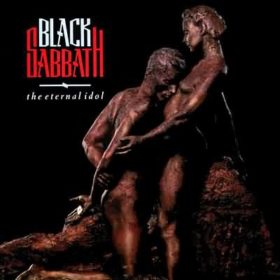 Black Sabbath – The Eternal Idol (1987)
Tracks
Description
Artist
To listen to a song, click the "Play" button.
The Shining
Ancient Warrior
Hard Life To Love
Glory Ride
Born To Lose
Nightmare
Scarlet Pimpernel
Lost Forever
Eternal Idol
The Eternal Idol is the 13th studio album by English rock band Black Sabbath, released on November 23, 1987. It is the first Black Sabbath album to feature vocalist Tony Martin. It spent six weeks on the Billboard 200 chart, peaking at 168. It was also the last full album of new material by Black Sabbath to be released by Warner Bros. Records (in North America), and the final album through their original label Vertigo Records until the release of 13 in 2013.
Black Sabbath were an English rock band, formed in Birmingham in 1968, by guitarist and main songwriter Tony Iommi, bassist and main lyricist Geezer Butler, singer Ozzy Osbourne, and drummer Bill Ward. Black Sabbath are often cited as more...
Genres: Heavy Metal, International Rock
Also download other albums from Black Sabbath