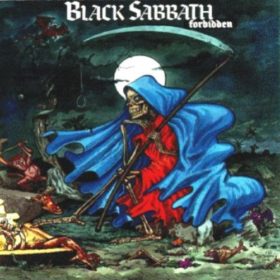 Black Sabbath – Forbidden (1995)
Tracks
Description
Artist
To listen to a song, click the "Play" button.
The Illusion of Power
Get a Grip
Can't Get Close Enough
Shaking Off the Chains
I Won't Cry for You
Guilty as Hell
Sick and Tired
Rusty Angels
Forbidden
Kiss of Death
Forbidden is the 18th studio album by English rock band Black Sabbath, released in June 1995. This recording saw the reunion of Black Sabbath's Tyr-era line-up from 1990, with the return of Neil Murray and Cozy Powell. It was the last album to feature Tony Martin on vocals, Geoff Nicholls on keyboards, and the last by the band until 2013 when Ozzy Osbourne and Geezer Butler returned for the album 13. The album sold 21,000 copies in the U.S in its first week and as of 2013, Forbidden has sold 191,000 copies in the US.
The album received a generally negative response from critics and fans alike. After its release, the band underwent several line-up changes and found itself at a career crossroads. However, original Black Sabbath vocalist Ozzy Osbourne would reconcile with guitarist Tony Iommi not long afterwards.
Black Sabbath were an English rock band, formed in Birmingham in 1968, by guitarist and main songwriter Tony Iommi, bassist and main lyricist Geezer Butler, singer Ozzy Osbourne, and drummer Bill Ward. Black Sabbath are often cited as more...
Genres: Heavy Metal, International Rock
Also download other albums from Black Sabbath