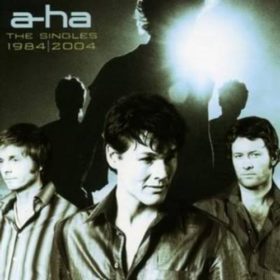 A-ha – The Singles: 1984–2004 (2005)
Tracks
a-ha - Take On Me (Official 4K Music Video)
Other videos of this song:

Mix - a-ha - Take On Me (Official 4K Music Video)

a-ha - Take On Me (Live From MTV Unplugged)

a-ha Take on Me Lyrics

a-ha - Take On Me (Dimitri Vegas & Like Mike vs Ummet Ozcan Remix)

A-HA feat KYGO - TAKE ON ME - EXCLUSIVE - The 2015 Nobel Peace Prize Concert
2
The Sun Always Shines On TV
3
Train Of Thought (Remix)
4
Hunting High And Low (Remix)
14
Shapes That Go Together
15
Summer Moved On (Radio Edit)
16
Minor Earth, Major Sky (Niven's Radio Edit)
17
Velvet (Radio Version)
19
Lifelines (single version)
About the Album
The Definitive Singles Collection 1984–2004 is a greatest hits album from Norwegian band A-ha, released on 11 April 2005.
Despite the title, the album contains tracks from 1985–2002. The album contains 17 of their hits plus an enhanced video for the song "Take on Me". The track listing of this album is slightly different from the one on The Singles: 1984–2004. It marked the return of A-ha to the top 20 of the UK Albums Chart, where it peaked at number 14.The album re-enter the chart with #99 position in 2015.
Genres: International Rock, New Wave, Synthpop
Other A-ha discography albums for download