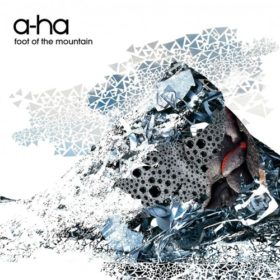 A-ha – Foot of the Mountain (2009)
Tracks
Description
Artist
To listen to a song, click the "Play" button.
The Bandstand
Riding The Crest
What There Is
Foot Of The Mountain
Real Meaning
Shadowside
Nothing Is Keeping You Here
Mother Nature Goes To Heaven
Sunny Mystery
Start The Simulator
Foot of the Mountain is the ninth studio album by the Norwegian pop rock band A-ha. It was released on 19 June 2009 and reached No. 1 on the German Albums Chart and No. 2 on the Norwegian Albums Chart. In its first week in the UK, the album debuted at No. 5, the group's highest chart placing in that country since Stay on These Roads in 1988.
The overall sound of the record marks a return to the synth-pop style the band became famous for in the mid-1980s. Keyboardist Magne Furuholmen describes the album thus: "It's an album that incorporates the key elements that first defined the band: soaring vocals, synth hooks, yearning lyrics and melodic melancholia."
Foot of the Mountain was A-ha's last full-length album before their split in 2010 and the last to the use the new A-ha logo before they reunite and revert to the old logo. However, they did release a further compilation album 25 with their new single "Butterfly, Butterfly (The Last Hurrah)"before reuniting in 2015.
A-ha is a Norwegian band formed in Oslo in 1982. Founded by Morten Harket (vocals, guitars), Magne Furuholmen (keyboards, guitars) and Paul Waaktaar-Savoy (guitars), the band rose to fame during the mid-1980s after being discovered by musician and more...
Genres: International Rock, New Wave, Pop Rock
Also download other albums from A-ha