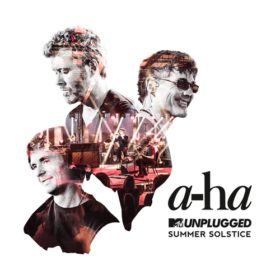 A-ha – MTV Unplugged – Summer Solstice (2017)
Tracks
Description
Artist
To listen to a song, click the "Play" button.
This Is Our Home
Lifelines
I've Been Losing You
Analogue (All I Want)
The Sun Always Shines On TV
A Break In The Clouds
Foot Of The Mountain
Stay On These Roads
This Alone Is Love
Over The Treetops
Forever Not Yours
Sox Of The Fox
Scoundrel Days
The Killing Moon
Summer Moved On
Memorial Beach
Living A Boy's Adventure Tale
Manhattan Skyline
The Living Daylights
Hunting High And Low
Take On Me
MTV Unplugged – Summer Solstice is a live album by the Norwegian band a-ha. The album was released on 6 October 2017. It was recorded live at the Harbour Hall at Ocean Sound Recordings in Giske, Norway, on 22 and 23 June 2017.
The album debuted at number six on the UK Albums Chart, selling 6,982 units in its first week and becoming a-ha's seventh top 10 album in the United Kingdom.
A-ha is a Norwegian band formed in Oslo in 1982. Founded by Morten Harket (vocals, guitars), Magne Furuholmen (keyboards, guitars) and Paul Waaktaar-Savoy (guitars), the band rose to fame during the mid-1980s after being discovered by musician and more...
Genres: International Rock, Pop Rock, Synthpop
Also download other albums from A-ha