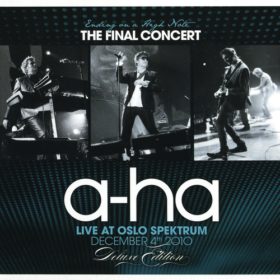 A-ha – Ending on a High Note: The Final Concert (2011)
Tracks
Description
Artist
To listen to a song, click the "Play" button.
The Sun Always Shines On TV
Move To Memphis
The Blood That Moves The Body
Scoundrel Days
The Swing Of Things
Forever Not Yours
Stay On These Roads
Manhattan Skyline
Hunting High And Low
We're Looking For The Whales
Butterfly, Butterfly (The Last Hurrah)
Crying In The Rain
Minor Earth Major Sky
Summer Moved On
I've Been Losing You
Foot Of The Mountain
Cry Wolf
Analogue
The Living Daylights
Take On Me
Ending on a High Note: The Final Concert (Live at Oslo Spektrum: December 4, 2010) is a live album released in 2011 by Norwegian band a-ha. It was recorded at the Oslo Spektrum, Oslo on 4 December 2010; which was initially planned to be their final concert before their eventual reunion in 2015. The concert on the previous night was also recorded as a back-up. The album contains the entire set from the final concert with the notable exclusions of "The Bandstand"and "Bowling Green", the latter being an Everly Brothers cover the band performed as part of the final encore.
There were separate CD, DVD, deluxe DVD (2 CDs and DVD) and Blu-ray editions. The CD only release is a one disc CD and only features 16 tracks.
A-ha is a Norwegian band formed in Oslo in 1982. Founded by Morten Harket (vocals, guitars), Magne Furuholmen (keyboards, guitars) and Paul Waaktaar-Savoy (guitars), the band rose to fame during the mid-1980s after being discovered by musician and more...
Genres: International Rock, Pop Rock, Synthpop
Also download other albums from A-ha