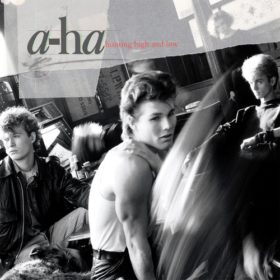 A-ha – Hunting High And Low (1985)
Tracks
Description
Artist
To listen to a song, click the "Play" button.
Take On Me
Train Of Thought
Hunting High And Low
The Blue Sky
Living A Boy's Adventure Tale
The Sun Always Shines On T.V.
And You Tell Me
Love Is Reason
Dream Myself Alive
Here I Stand And Face The Rain
Hunting High And Low is the debut studio album by Norwegian new wave band A-ha. Released on 1 June 1985 by Warner Bros. Records, the album was a huge commercial success selling more than 11 million units worldwide, peaking at number 15 on the US Billboard 200 and reaching high positions on charts worldwide. The album was recorded at Eel Pie Studios in Twickenham, produced by Tony Mansfield, John Ratcliff and Alan Tarney.
In all, five singles from the album were released, though not all were released internationally: "Take On Me", "Love Is Reason", "The Sun Always Shines on T.V.", "Train of Thought"and "Hunting High And Low". The group was nominated for Best New Artist at the Grammy Awards in 1986, making A-ha the first Norwegian band to be nominated for a Grammy.
As part of a re-release of their first two albums, Hunting High And Low was expanded and remastered in 2010.
A-ha is a Norwegian band formed in Oslo in 1982. Founded by Morten Harket (vocals, guitars), Magne Furuholmen (keyboards, guitars) and Paul Waaktaar-Savoy (guitars), the band rose to fame during the mid-1980s after being discovered by musician and more...
Genres: International Rock, New Wave, Pop Rock
Also download other albums from A-ha