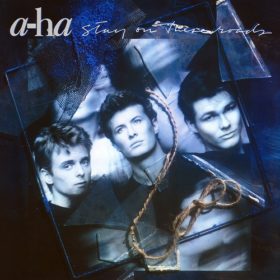 A-ha – Stay on These Roads (1988)
Tracks
Description
Artist
To listen to a song, click the "Play" button.
Stay On These Roads
The Blood That Moves The Body
Touchy
This Alone Is Love
Hurry Home
The Living Daylights
There's Never A Forever Thing
Out Of Blue Comes Green
You Are The One
You'll End Up Crying
Stay on These Roads is the third studio album by Norwegian band A-ha. It was released on 3 May 1988 by Warner Bros. Records. Six singles were released from the album.
Stay on These Roads was the band's third studio album. The album's peak on the Billboard 200 was 148. The album was another big hit by A-ha internationally, selling over 4 million copies worldwide. Stay on These Roads achieved Platinum status in Brazil and Gold in the UK, Switzerland, the Netherlands and Germany and Double Platinum status in France.The album reached #2 in the European top-100 albums sales chart.
William Ruhlmann of AllMusic said "in the U.K., the album became the group's third straight to peak at number two, though it charted for a shorter period than the first two albums, and there were four Top 25 hits—the title track, 'The Blood That Moves the Body,' 'Touchy!,' and 'You Are the One'."Also included was A-ha's 1987 theme from the James Bond movie The Living Daylights, a U.K. number five that missed the U.S. charts.
Lead single "Stay on These Roads", number one in Norway, was a hit across Europe, including top-five showings in the UK, France, Austria and Ireland and top-ten chartings in Germany, the Netherlands, Sweden and Switzerland. Stay on These Roads included three more hit singles, "The Blood That Moves The Body", "Touchy!"and "You Are the One", though a final single, "There's Never a Forever Thing", was released only in Brazil. None of the singles charted on the Billboard Hot 100.
A-ha is a Norwegian band formed in Oslo in 1982. Founded by Morten Harket (vocals, guitars), Magne Furuholmen (keyboards, guitars) and Paul Waaktaar-Savoy (guitars), the band rose to fame during the mid-1980s after being discovered by musician and more...
Genres: International Rock, New Wave, Pop Rock
Also download other albums from A-ha