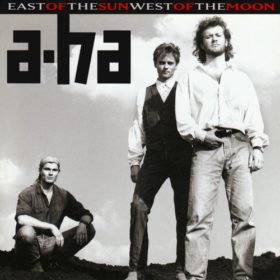 A-ha – East of the Sun, West of the Moon (1990)
Tracks
Description
Artist
To listen to a song, click the "Play" button.
Crying In The Rain
Early Morning
I Call Your Name
Slender Frame
East Of The Sun
Sycamore Leaves
Waiting For Her
Cold River
The Way We Talk
Rolling Thunder
(Seemingly) Nonstop July
East of the Sun, West of the Moon is the fourth album by the Norwegian band A-ha. Released in 1990, it was something of a departure from their earlier radio friendly sound to a darker, moodier tone. The album was named after a Norwegian fairy tale. It reached number 1 in the band's native Norway and was Top 20 in various European countries and Japan. It was co-produced by Ian Stanley, formerly of the band Tears for Fears.
A-ha is a Norwegian band formed in Oslo in 1982. Founded by Morten Harket (vocals, guitars), Magne Furuholmen (keyboards, guitars) and Paul Waaktaar-Savoy (guitars), the band rose to fame during the mid-1980s after being discovered by musician and more...
Genres: International Rock, New Wave, Pop Rock
Also download other albums from A-ha