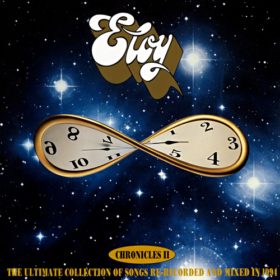 Eloy – Chronicles II (1994)
Tracks
Description
Artist
To listen to a song, click the "Play" button.
Escape To The Heights ('94)
All Life Is One ('94)
Nightriders ('94)
Follow The Light ('94)
Rainbow
Voyager of the Future Race
Fire & Ice
Call of the Wild
Prisoner in Mind
Eclipse of Mankind
Chronicles II is the second of a two parts re-recorded hits compilation by German progressive rock band Eloy. The album has been released in 1994 to commemorate the 25th anniversary of the band. The first part Chronicles I has been released the preceding year.
Chronicles II contains songs from the years 1984-1992 and from the albums Metromania (1984), Ra (1988) and Destination (1992).
Tracks from Metromania have been re-recorded with former members of the band to match modern sound quality. All tracks have been digitally remastered.
Eloy is a German progressive rock band, whose musical style includes symphonic and space rock, the latter tendency being more prevalent on earlier albums. Despite their nationality and time period, the band is not generally considered krautrock more...
Genres: International Rock, Progressive Rock
Also download other albums from Eloy