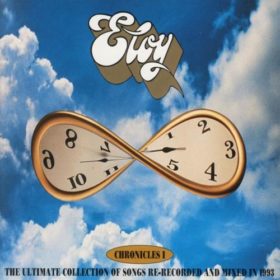 Eloy – Chronicles I (1993)
Tracks
Eloy - Ocean - 01 - Poseidon's Creation
Other videos of this song:

Eloy - Poseidon's Creation

ELOY - Poseidon's Creation

Poseidon's Creation

Mix - Eloy - Ocean - 01 - Poseidon's Creation

Eloy - Ocean (1977) Full Album
1
Poseidons Creation 1993
4
Mysterious Monolith 1993
10
Say It Is Really True 1993
About the Album
Chronicles I is the first of a two-part compilation of re-recorded hits by German progressive rock band Eloy released in 1993. The second part, Chronicles II was released the following year.
Early Eloy albums had relatively poor sound quality, leading Frank Bornemann to re-record some of their most popular songs using modern recording technologies. He invited some of the former members of the band to play on the album.
Chronicles I contains songs from Ocean (1977), Silent Cries and Mighty Echoes (1979), Colours (1980), Planets (1981) and Time to Turn (1982) re-recorded and mixed in 1993. The album also contains one previously unreleased track from the album Destination (1992).
Genres: International Rock, Progressive Rock
Other Eloy discography albums for download