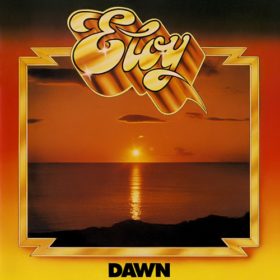 Eloy – Dawn (1976)
Tracks
Description
Artist
To listen to a song, click the "Play" button.
Awakening
Between The Times
Between the Times: Memory - Flash
Between The Times: Appearance Of The VOICE
Between The Times: Return Of The VOICE
The Sun-Song
The Dance in Doubt and Fear
Lost!?? (Introduction)
Lost?? (The Decision)
The Midnight-Flight / The Victory Of Mental Force
Gliding Into Light and Knowledge
Le Reveil Du Soleil / The Dawn
Dawn is the fifth studio album by the German progressive rock band Eloy released in 1976. Much like their previous album, Power and the Passion, their fifth studio release follows a similar story format. The concept tells the tale of a man who after a sudden death comes back as a ghost. He tries to pass on his newly acquired knowledge to his loved one. The album ends with his dissolving into light, closing on the quote, "Nous sommes du soleil"("We are of the sun").
Eloy is a German progressive rock band, whose musical style includes symphonic and space rock, the latter tendency being more prevalent on earlier albums. Despite their nationality and time period, the band is not generally considered krautrock more...
Genres: International Rock, Progressive Rock
Also download other albums from Eloy