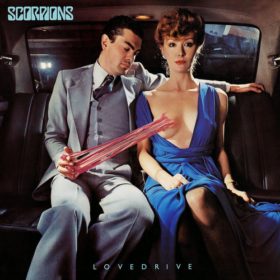 Scorpions – Lovedrive (1979)
Tracks
Description
Artist
To listen to a song, click the "Play" button.
Loving You Sunday Morning
Always Somewhere
Coast To Coast
Can't Get Enough
Is There Anybody There?
Lovedrive
Holiday
Lovedrive is the sixth studio album by German band Scorpions, released in 1979. Considered by some critics to be the pinnacle of their career, Lovedrive was a major evolution of the band's sound, exhibiting their "classic style"that would be later developed over their next few albums. Lovedrive cemented the "Scorpions formula"of hard rock songs combined with melodic ballads.
Lovedrive was the band's first album to be released by Harvest Records in Europe and Mercury Records in the United States and Canada following the band's departure from RCA. It proved to be a major commercial breakthrough, reaching No. 55 on the Billboard Top 200, which none of their previous five albums had dented at all. The RIAA certified the record as Gold on 28 May 1986, and the album also proved a breakthrough in the United Kingdom where it was the first Scorpions album to chart and peaked at No. 36.
Lovedrive ranked No. 25 on IGN's 2007 list of the Top 25 metal albums.
Scorpions are a German rock band formed in 1965 in Hanover by Rudolf Schenker. Since the band's inception, its musical style has ranged from hard rock to heavy metal. The lineup from 1978–1992 was the most successful incarnation of the group, and more...
Genres: Hard Rock, Heavy Metal, International Rock
Also download other albums from Scorpions