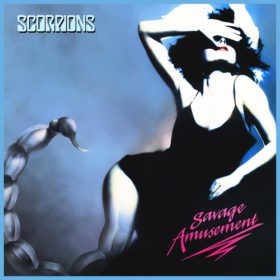 Scorpions – Savage Amusement (1988)
Tracks
Description
Artist
To listen to a song, click the "Play" button.
Don't Stop At The Top
Rhythm Of Love
Passion Rules The Game
Media Overkill
Walking On The Edge
We Let It Rock… You Let It Roll
Every Minute Every Day
Love On The Run
Believe In Love
Savage Amusement is the tenth studio album by the German hard rock band Scorpions, released on 16 April 1988. It peaked at No. 5 in the USA, where it became platinum on 20 June 1988. It was the last Scorpions record to be produced by Dieter Dierks.
The album was the follow-up to the successful Love at First Sting and had some musical differences when compared to its predecessor. The overall feel of the album shows that Scorpions wanted to experiment a little with some different genres, going to a more radio friendly style and incorporating more synthesized sounds. While there are still some straight heavy-hitting songs, like "Don't Stop at the Top"and "We Let It Rock… You Let It Roll", there are more commercial rock songs such as "Passion Rules the Game".
Scorpions are a German rock band formed in 1965 in Hanover by Rudolf Schenker. Since the band's inception, its musical style has ranged from hard rock to heavy metal. The lineup from 1978–1992 was the most successful incarnation of the group, and more...
Genres: Hard Rock, Heavy Metal, International Rock
Also download other albums from Scorpions