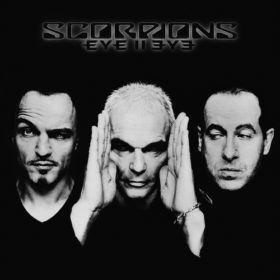 Scorpions – Eye II Eye (1999)
Tracks
Description
Artist
To listen to a song, click the "Play" button.
Mysterious
To Be No. 1
Obsession
10 Light Years Away
Mind Like a Tree
Eye to Eye
What U Give U Get Back
Skywriter
Yellow Butterfly
Freshly Squeezed
Priscilla
Du bist so schmutzig
Aleyah
A Moment in a Million Years
Eye II Eye is the fourteenth studio album by the German hard rock band Scorpions, released in 1999. It is a radical departure in that Eye II Eye is much more pop-oriented than their previous work, which alienated some fans, despite the single "Mysterious"reaching number 26 on the Billboard Hot Mainstream Rock Tracks chart. It is the first studio Scorpions album to feature James Kottak on drums and also the final Scorpions studio album to feature Ralph Rieckermann on bass guitar (unless one counts symphonic Moment Of Glory).
For the first (and, thus far, only) time, Scorpions released a song recorded largely in their native language, namely "Du bist so schmutzig".
Scorpions are a German rock band formed in 1965 in Hanover by Rudolf Schenker. Since the band's inception, its musical style has ranged from hard rock to heavy metal. The lineup from 1978–1992 was the most successful incarnation of the group, and more...
Genres: Hard Rock, Heavy Metal, International Rock
Also download other albums from Scorpions