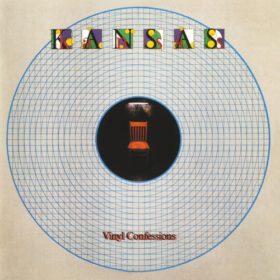 Kansas – Vinyl Confessions (1982)
Tracks
Kansas - Play The Game Tonight (Official Video)
Other videos of this song:

Play The Game Tonight

Play the Game Tonight

Mix - Kansas - Play The Game Tonight (Official Video)

Play The Game Tonight Kansas Lyrics

Kansas - Play the Game Tonight (Live 1982)
About the Album
Vinyl Confessions is the eighth studio album by American rock band Kansas, released in 1982 (see 1982 in music). It includes "Play the Game Tonight", which broke the Top 20 and is Kansas's third highest-charting single, surpassed only by "Carry on Wayward Son"and "Dust in the Wind". The album was reissued in remastered format on CD in 1996 on Legacy/Epic and again in 2011.
Vinyl Confessions was a major turning point for the band. After the conversion of both guitarist/keyboard player Kerry Livgren and bass player Dave Hope to Christianity, and the focus that Livgren placed on his religion in the band's lyrics, lead singer Steve Walsh did not agree with the new direction of the band and left to form his own band, Streets. Walsh had also contributed much as a songwriter, so the band was forced to find a new lead singer who not only had a vocal style that fit the band's music, but also could contribute material for the upcoming album. After a long audition process, the choice came down to three strong candidates: Warren Ham, Michael Gleason and John Elefante. The band eventually settled on Elefante.
While acknowledging the comeback success of the single "Play the Game Tonight", AllMusic's retrospective review was largely negative. They criticized the Christian lyrics as being "often of a judgmental, us-versus-you nature", and insinuated that the album fell more into a generic pop rock vein than Kansas's earlier albums ("it was getting hard to distinguish Kansas from Foreigner and Journey").
Genres: Arena Rock, International Rock, Progressive Rock
Other Kansas discography albums for download