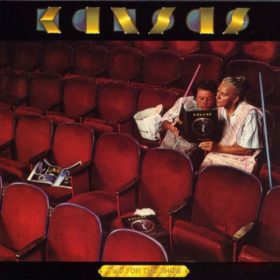 Kansas – Two for the Show (1978)
Tracks
Description
Artist
To listen to a song, click the "Play" button.
Song For America
Point Of Know Return
Paradox
Icarus Borne On Wings Of Steel
Portrait (He Knew)
Carry On Wayward Son
Journey From Mariabronn
Dust In The Wind
Lonely Wind
Mysteries And Mayhem
Excerpt From Lamplight Symphony
The Wall
Closet Chronicles
Magnum Opus
Two for the Show is a double-live album by American progressive rock band Kansas, released in 1978. The album was reissued in remastered format on CD in 2008. Recorded over the course of the band's three previous tours in 1977 and 1978, it was Kansas' first live album. It was certified Gold and then Platinum shortly after its release.
One single, "Lonely Wind,"was released from the album. The single version was edited to under 3 minutes, and included a small amount of the piano solo that precedes it on the album. It received a reasonable amount of airplay and rose to No. 60 on the pop charts.
In addition, Kirshner Records issued a promotional album of edited selections from the release, entitled Kansas Mini Concert on the spine and label, and Two for the Show Special Limited Edition on the cover. It features "Lonely Wind,""Dust in the Wind,""Song for America,"and "The Wall."The same songs appear on both sides, and the first side is unbanded, meaning there is no indication on the vinyl of where each song begins. This promo album was issued with both a black and a white cover.
Kansas is an American rock band that became popular in the 1970s initially on album-oriented rock charts and later with hit singles such as "Carry On Wayward Son" and "Dust in the Wind". The band has produced nine gold albums, three multi-platinum more...
Genres: Hard Rock, International Rock, Progressive Rock
Also download other albums from Kansas