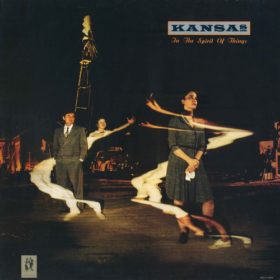 Kansas – In the Spirit of Things (1988)
Tracks
Description
Artist
To listen to a song, click the "Play" button.
Ghosts
One Big Sky
Inside Of Me
One Man, One Heart
House On Fire
Once In A Lifetime
Stand Beside Me
I Counted On Love
The Preacher
Rainmaker
T.O. Witcher
Bells Of Saint James
In the Spirit of Things is the eleventh studio album by American rock band Kansas, released in 1988 (see 1988 in music). It is a very loosely organized concept album, telling the story of a flood hitting the real Kansas city of Neosho Falls in 1951. It is the first Kansas album since 1975's Masque to lack a hit single.
Kansas is an American rock band that became popular in the 1970s initially on album-oriented rock charts and later with hit singles such as "Carry On Wayward Son" and "Dust in the Wind". The band has produced nine gold albums, three multi-platinum more...
Genres: Arena Rock, Hard Rock, International Rock
Also download other albums from Kansas