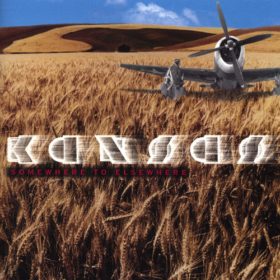 Kansas – Somewhere to Elsewhere (2000)
Tracks
Description
Artist
To listen to a song, click the "Play" button.
Icarus II
When The World Was Young
Grand Fun Alley
The Coming Dawn (Thanatopsis)
Myriad
Look At The Time
Disappearing Skin Tight Blues
Distant Vision
Byzantium
Not Man Big
Hidden Track
Somewhere to Elsewhere is the fourteenth studio album by American rock band Kansas, released in 2000. It was the band's last studio album until the announcement of their 2016 album, The Prelude Implicit. This album marks the reunion of the band's original 1970s lineup since 1980's Audio-Visions, along with Billy Greer, who joined Kansas with Power. Kerry Livgren composed all of the album's tracks, and he sings (which he does not normally do) on the hidden track "Geodesic Dome".
Kansas is an American rock band that became popular in the 1970s initially on album-oriented rock charts and later with hit singles such as "Carry On Wayward Son" and "Dust in the Wind". The band has produced nine gold albums, three multi-platinum more...
Genres: Hard Rock, International Rock, Progressive Rock
Also download other albums from Kansas