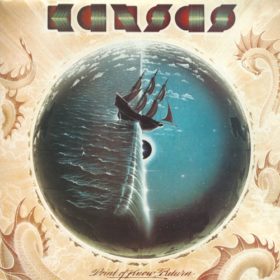 Kansas – Point of Know Return (1977)
Tracks
Description
Artist
To listen to a song, click the "Play" button.
Point Of Know Return
Paradox
The Spider
Portrait (He Knew)
Closet Chronicles
Lightning's Hand
Dust In The Wind
Sparks Of The Tempest
Nobody's Home
Hopelessly Human
Point of Know Return is the fifth studio album by American rock band Kansas, released in 1977. The album was reissued in remastered format on CD in 2002.
Rolling Stone gave the album a mixed review, saying that though the transition to shorter songs generally works, the lyrics are "a wan and ridiculous rehash of the bargain-basement exoticism employed by the British art-rock crowd."They commented that though Kansas lacks a virtuoso soloist, the band's ensemble playing is strong and purposeful. Robert Taylor of AllMusic wrote that Kansas' "interplay and superior musicianship make this both an essential classic rock and progressive rock recording", despite its "dated sound"and the band's struggle "to maintain a healthy balance of progression combined with pop."
Kansas is an American rock band that became popular in the 1970s initially on album-oriented rock charts and later with hit singles such as "Carry On Wayward Son" and "Dust in the Wind". The band has produced nine gold albums, three multi-platinum more...
Genres: Hard Rock, International Rock, Progressive Rock
Also download other albums from Kansas