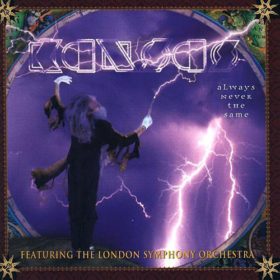 Kansas – Always Never the Same (1998)
Tracks
Description
Artist
To listen to a song, click the "Play" button.
Eleanor Rigby
Dust In The Wind
Preamble
Song For America
In Your Eyes
Miracles Out Of Nowhere
Hold On
The Sky Is Falling
Cheyenne Anthem
Prelude & Introduction
The Wall
Need To Know
Nobody's Home
Always Never the Same is the thirteenth studio album by American rock band Kansas, released in 1998. This album consists of mostly covers of the band's previous work, re-recorded with the London Symphony Orchestra. New songs include "In Your Eyes", "The Sky Is Falling", "Need to Know"and the instrumental "Preamble". "Prelude & Introduction"is a medley of the Kansas songs "Carry On Wayward Son", "Point of Know Return", "Opus Insert", and "Lamplight Symphony."The album also includes a cover of The Beatles' "Eleanor Rigby". "Carry On Wayward Son"was recorded at the time in case strong sales brought forth a second symphonic album, but it remains unreleased.
Kansas is an American rock band that became popular in the 1970s initially on album-oriented rock charts and later with hit singles such as "Carry On Wayward Son" and "Dust in the Wind". The band has produced nine gold albums, three multi-platinum more...
Genres: Arena Rock, Hard Rock, International Rock
Also download other albums from Kansas