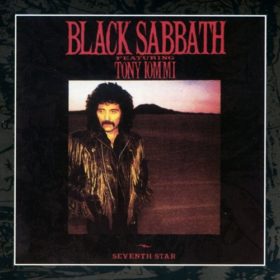 Black Sabbath – Seventh Star (1986)
Tracks
Description
Artist
To listen to a song, click the "Play" button.
In For The Kill
No Stranger to Love
Turn to Stone
Sphinx (The Guardian)
Seventh Star
Danger Zone
Heart Like A Wheel
Angry Heart
In Memory…
Seventh Star is a studio album marketed as being by English rock band Black Sabbath featuring Tony Iommi, the sole original member (while also being the bands 12th studio album). Released in January 1986, it features musicians Geoff Nicholls, Eric Singer, and Dave Spitz, playing keyboards, drums, and bass, respectively, and Glenn Hughes, ex-Deep Purple bassist and vocalist, as lead singer. The album was the group's first release without bassist Geezer Butler, who left the band in 1984 after the aforementioned Born Again tour. It was originally written, recorded, and intended to be the first solo album by Iommi. Due to pressures by Warner Bros. Records and the prompting of band manager Don Arden, the record was billed as Black Sabbath featuring Tony Iommi. Later releases label the album as simply by Black Sabbath. Despite the issues behind the release's production, it earned moderate commercial success, reaching #78 on the Billboard 200 chart.
Black Sabbath were an English rock band, formed in Birmingham in 1968, by guitarist and main songwriter Tony Iommi, bassist and main lyricist Geezer Butler, singer Ozzy Osbourne, and drummer Bill Ward. Black Sabbath are often cited as more...
Genres: Heavy Metal, International Rock
Also download other albums from Black Sabbath