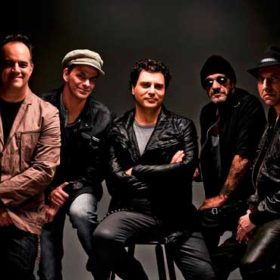 Barão Vermelho
Barão Vermelho is a Brazilian rock band. Formed in 1981 in Rio de Janeiro, it was originally led by songwriting duo Cazuza (singer) and Roberto Frejat (guitarist), who assumed the vocals after Cazuza's departure in 1985, he left the band in
more...
Barão Vermelho is a Brazilian rock band. Formed in 1981 in Rio de Janeiro, it was originally led by songwriting duo Cazuza (singer) and Roberto Frejat (guitarist), who assumed the vocals after Cazuza's departure in 1985, he left the band in 2017 and he was replaced by Rodrigo Suricato. They are considered one of the most influential bands in Brazilian rock.
The band, named after Snoopy's "Red Baron" strips, began in 1981, in Rio de Janeiro, as a literal garage band, when Maurício Carvalho de Barros and Flávio Augusto Goffi Marquesini (Guto Goffi), both studying at Imaculada Conceição High School, got together to play Rolling Stones and Led Zeppelin at the former's parents' house. Guitarist Roberto Frejat and bassist André Palmeira Cunha (Dé) joined them, and the band began to look for a singer. One candidate was singer and guitarist Léo Jaime from Goiás, who turned the band down, considering the band "too heavy" for his taste. Jaime suggested one of his colleagues at acting class, Agenor Miranda Araújo Neto, more commonly known as Cazuza, and noted that he was "the son of João Araújo" – a reference that the barões missed, only later learning that João Araújo was an executive at Som Livre, one of Brazil's largest record companies. Cazuza showed them some lyrics that he had already written, and Barão Vermelho, which had been a cover band until then, began writing their own songs.
They recorded the LP "Barão Vermelho" by Som Livre in only two days in 1982. The album included songs such as "Bilhetinho Azul", "Ponto Fraco" and "Down em Mim." They played in a few concerts in Rio de Janeiro and São Paulo and returned to the studio for a month to record their second album "Barão Vermelho 2", which was released in 1983 and which includes the song "Pro Dia Nascer Feliz".
Barão Vermelho discography for download