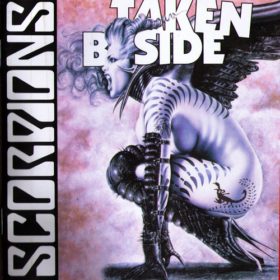 Scorpions – Taken B-Side (2009)
Tracks
Description
Artist
To listen to a song, click the "Play" button.
Cold
I Can't Explain
Dreamer
Too Far
Edge Of Time
Heroes Don't Cry
You And I (''Butcher'' Radio-Remix)
She's Knocking At My Door
Alex Julie's Love Theme
Daddy's Girl
Ave Maria No Morro
Partners In Crime
You And I (Special Single Mix)
Kami O Shin Jiru
Rhythm Of Love (Acoustic)
Humanity (Radio Edit Incl.Orchestra)
White Dove
Wind Of Change (Russian Version)
You Are The Champion
Cause I Love You
Rubber Fucker
Kiss Of Borrowed Time
Bad For Good
When Love Kills Love (Studio Version)
Hey You
Over The Top
Wind Of Change (Spanish Version)
Life Goes' Round
His Latest Flame
Miracle
Mind Power
Love Is Blind
Start Me Up
When You Came Into My Life (New Version)
Back To U
Fuchs Geh Voran
Bis Wohin Reicht Mein Leben
Taken B-Side is a compilation album by the German rock band Scorpions, released in 2009. It contains songs that were released only as bonus tracks of certain studio albums and includes new recordings, cover versions, live tracks and B-sides of some singles. Two of the tracks are not in the rock genre and were not performed by the band. One of them was based on a poem and it involved only the lead vocalist.
Scorpions are a German rock band formed in 1965 in Hanover by Rudolf Schenker. Since the band's inception, its musical style has ranged from hard rock to heavy metal. The lineup from 1978–1992 was the most successful incarnation of the group, and more...
Genres: Hard Rock, Heavy Metal, International Rock
Also download other albums from Scorpions