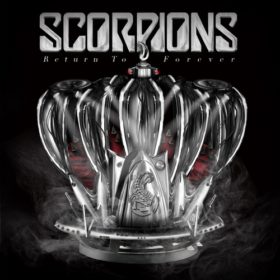 Scorpions – Return to Forever (2015)
Tracks
Description
Artist
To listen to a song, click the "Play" button.
Going Out With A Bang
We Built This House
Rock My Car
House Of Cards
All For One
Rock 'n' Roll Band
Catch Your Luck And Play
Rollin' Home
Hard Rockin' The Place
Eye Of The Storm
The Scratch
Gypsy Life
Return to Forever is the eighteenth studio album by German rock band Scorpions. It was released in Europe on 20 February 2015. The album marks the final release of the band with longtime drummer James Kottak, who was replaced in 2016 by former Motörhead drummer Mikkey Dee.
"We Built This House"has a chorus which comes after the verse and again one more chorus after the chorus. "When the Truth is a Lie"is a song that is in the vein of songs "China White"from Blackout (1982) and title song from the Animal Magnetism (1980). "Who We Are"is a song in the tradition of the band the Who and it is one of the shortest songs ever written by Klaus Meine. The song features background vocals by Andersson and Hansen. "Delirious"is an experimental song that is influenced by the album Physical Graffiti (1975) by Led Zeppelin and has dance rhythm.
Scorpions are a German rock band formed in 1965 in Hanover by Rudolf Schenker. Since the band's inception, its musical style has ranged from hard rock to heavy metal. The lineup from 1978–1992 was the most successful incarnation of the group, and more...
Genres: Hard Rock, Heavy Metal, International Rock
Also download other albums from Scorpions