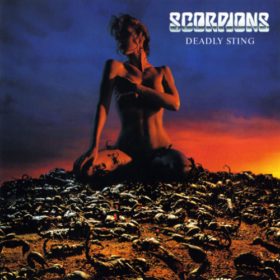 Scorpions – Deadly Sting (1995)
Tracks
Description
Artist
To listen to a song, click the "Play" button.
Coming Home
Rock You Like a Hurricane
No One Like You
Lovedrive
Bad Boys Running Wild
I'm Leaving You
Passion Rules The Game
China White
Walking On The Edge
Coast To Coast
Loving You Sunday Morning
Another Piece Of Meat
Dynamite
Can't Live Without You
Edge Of Time
Deadly Sting is a compilation album of hits and previously unreleased material by the German hard rock band Scorpions. The songs were culled from their catalog on the Mercury label.
Deadly Sting was released both as a single disc in 1995 and an expanded double-disc version in 1997. The single-disc album has 15 or 18 tracks depending on the country of release, which span from 1979 to 1988. The double-disc US release has 33 songs ranging from 1979 to 1995, including several previously unreleased studio tracks.
The original cover art gained controversy, as it depicted a naked woman being stung by a column of scorpions. An alternative cover with the woman airbrushed out was printed, which was used for the double-disc version of the album, subtitled The Mercury Years.
Scorpions are a German rock band formed in 1965 in Hanover by Rudolf Schenker. Since the band's inception, its musical style has ranged from hard rock to heavy metal. The lineup from 1978–1992 was the most successful incarnation of the group, and more...
Genres: Hard Rock, Heavy Metal, International Rock
Also download other albums from Scorpions