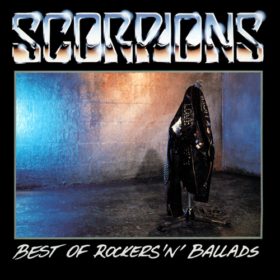 Scorpions – Best of Rockers 'n' Ballads (1989)
Tracks
Description
Artist
To listen to a song, click the "Play" button.
Rock You Like a Hurricane
I Can't Explain
Still Loving You
Big City Nights
Lovedrive
Holiday
Blackout
Rhythm Of Love
No One Like You
You Give Me All I Need
Hey You
The Zoo
Best of Rockers 'n' Ballads is a compilation album by the German hard rock band Scorpions, released in 1989. All songs on this album are from their tenure with Mercury Records, from 1979 to 1988, in addition to rare or never-before released material.
The record features several rare or completely unreleased tracks: "Hey You", from the group's Animal Magnetism sessions; the re-recorded "long version"of "Is There Anybody There?"; and a cover of The Who's "I Can't Explain", which was also included on that same year's Stairway to Heaven/Highway to Hell charity compilation album.
The track listing and individual running times differ between the US, European and Asian editions. The US version omits several tracks, but includes the longer, unedited version of "Hey You". The European version was re-released as The Essential Scorpions in 2003.
Best of Rockers 'n' Ballads reached platinum status in the United States, and is the Scorpions' only compilation album to be certified at least gold by the RIAA there.
Scorpions are a German rock band formed in 1965 in Hanover by Rudolf Schenker. Since the band's inception, its musical style has ranged from hard rock to heavy metal. The lineup from 1978–1992 was the most successful incarnation of the group, and more...
Genres: Hard Rock, Heavy Metal, International Rock
Also download other albums from Scorpions